Tuesday, March 27, 2007
Rainy Day in New Zealand
During the rainy days when Hakka [Taiwan native] men did not do the farm work, singing mountain songs and playing instruments with friends were their major activities. . . . The ideal lifestyle for Hakka people in the early days consisted of farming and studying. Therefore, a famous Hakka phrase which represents Hakka life is "Chiny-geng Yu-du" (in Mandarin). That is, "Do the farm work on the sunny days, and study on the rainy days."

-- Apricot Hun, "Brief description of the characteristics of Hakka culture"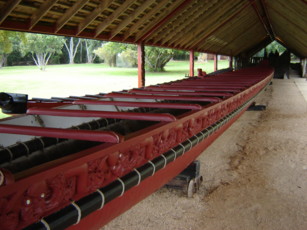 After a whirlwind tour of New Zealand's North Island north of Aukland the past two days, I took a drizzly day off today to relax, catch up on laundry and computer work, and enjoy a leisurely stroll to the "Treaty Grounds" where the Maori chiefs (whether they knew it or not) signed away their lands to the British, their imposing 100-foot war canoe notwithstanding.
Aukland is much like Vancouver in size (1.4 million), climate (moderate and cloudy), and ethnicity (British and Asian). I didn't find much to do there except research tour options, the most efficient way to see the country in a short time (10 days).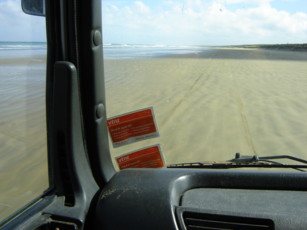 Yesterday I boarded the Dune Rider to explore the northlands, including a power zoom straight up the sand on Ninety Mile Beach, with sand boarding as the highlight activity, and the exposed point of Cape Reinga the apex of scenic beauty. Throw in a few giant Kauri trees, a quick wade in the surf, and the rest of the trip was largely a blur of sheep pastures. On the way up from Aukland the day before, the highlight was a brief swim near Goat Island ... about the temperature of BC ocean swimming in late summer. A bit of a shock after the tropics ... but hey, it's March.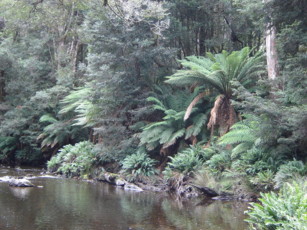 Tasmania, where I spent the week before, was quite an interesting blend of familiar wild landscape and friendly, alternative-minded people, and all-different flora and fauna. The family that hosted me for drumming workshops there was extremely hospitable, and added a kayak outing and a couple of excursions into the alpine to a full music schedule: several workshops, plus a rehearsal and final performance for a drum group much like a scaled-down Masala, at a venue in downtown Hobart.
Hobart, Tasmania's capital city, at 40,000 is a pleasant, laid-back city, kind of a cross between the BC cities of Nelson and Victoria. One of its electoral ridings has the highest Green Party vote in Australia. The drum group I played with, Tumba, was featured on World Music night at the Lark Distillery, a monthly engagement for them.
The act we followed was a one-man show, a talented musician who played two didges, various wind instruments including sax and clarinet, keyboards and synthesizer, and HandSonic--practically all at the same time, and with some great pure jazz licks. He joined us for some inspired accompaniment for our closing piece.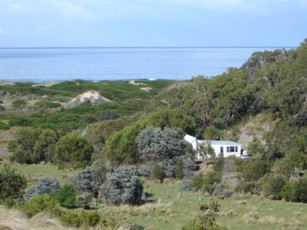 To backtrack a bit, the four-hour rehearsal for that set had been a bit of a stretch for me, since it happened afternoon and evening of the day I arrived, following a night flight from Bali on which I had no sleep. On top of flight fatigue I was somewhat sick, quite hungry, and poorly adapted to the cold (looking out over the water, the next land mass over the horizon was Antarctica) ... but these are familiar sacrifices for the gods of music; and afterwards a large sandwich and full night's sleep in a cozy sleeping bag set me back on the right track.
---
A philosophical digression . . .
Which brings me back to today, finding my center at rest again, if only temporarily. Today in a café at the Treaty Grounds I read a couple of chapters in Arthur Koesler's The Sleepwalkers: A History of Man's Changing Vision of the Universe. The long account of the career and personality of Nicholas Copernicus was rather dry and academic, but came to an explosive and inspiring conclusion:

Once the apparent daily round of the firmament was explained by the earth's rotation, the stars could recede to any distance; putting them on a solid sphere became now an arbitrary, unconvincing act. The sky no longer had a limit, infinity opened its gaping jaws.

...

The universe has lost its core. It no longer has a heart, but a thousand hearts. The reassuring feeling of stability, of rest and order are gone.

...

The Golden Chain was torn, its links scattered throughout the world; homogenous space implied a cosmic democracy.

...

Homo sapiens had dwelt in a universe enveloped by divinity as by a womb; now he was being expelled from the womb.

...

A.D. 1600 [following Copernicus] is probably the most important turning point in human destiny after 600 B.C. [the time of Buddha, Confucius, Lao-Tze, Pythagoras].

There were several Greek thinkers following Pythagoras who put the sun at the center of the revolving earth and planets, but it took nearly another 1000 years for that vision to take hold again in a fearful, repressive medieval Europe, whose scientists and citizens tried to take comfort in a stable, earth-centered model of a fixed, limited, mechanistic universe ordered under a hierachical Chain of Being.
Now, nearly 1500 years after Buddha and Lao-Tze articulated their exquisite models of human liberation, it seems most of us (myself included) are still stuck for the most part in a similarly limited view of human nature and human being. It is as if we have recoiled in existential fear from the implications of a boundless universe with no definitive shape or body of laws for humans. Sartre's existentialism was not freeing but "nauseating." In the face of an expansive and dissolving vision that began with Copernicus and has been elaborated by relativity, quantum physics and chaos theory, we continue to retreat into the ego-eggshells of our personal identities and social roles, seeking solace in our creature comforts and primal (whether reptile- or primate-driven) relationships of economics and emotions. Lacking the supporting structure of lawful divinity, we have replaced "Father, Son and Holy Ghost" with "I, me, mine."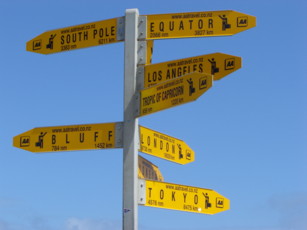 It is not that this condition of separate individual identities is unhealthy or obsolete in itself. We do after all have our "animal nature" to take care of, and even enjoy, as an ongoing part of our "human nature." Rather, the point here is that to be too confined or stuck within the boundaries of the individual, physical-emotional-mental-social self can deny us the opportunity to enjoy the boundless freedom of our "cosmic nature" - which implies also connectedness with one another and all beings, and empathy for the suffering entailed by physical existence.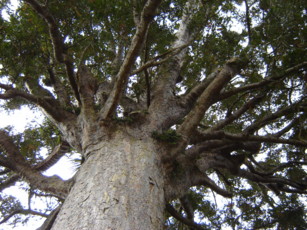 In the face of a larger reality of "Universal Energy," our response does not have to be shrinking into historical patterns of fearful comfort and conditioned delusion. We also have the choice of identifying with that transcendental and all-pervasive energy, enjoying life as "life force" as shared by all things, beyond the roles we have chosen to live or that have been chosen for us.
Buddha and Lao-Tze didn't bother charting the heavens; they bypassed the star charts to map instead the polarities and epicycles of human consciousness and psychology. Whether we choose the outer route of finding a definition for human being in the observable cosmos, or the inner journey toward joy and peace of mind, there is an option for us that goes beyond both the blind denial and obedience of the medieval mind, and the reflexive withdrawl of the modern individual into self-concern. That option is to open to the concept of universal energy not only as a vision of cosmic science, but also as a field of loving play for the human psyche.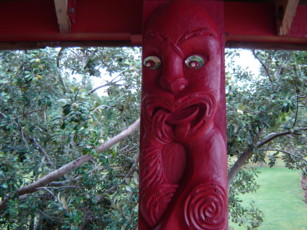 ---
Tuesday, March 13, 2007
The Last Tourist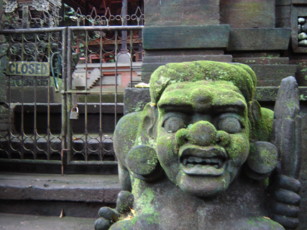 Here at Lovina, on Bali's north coast, I can feel what it's like at the end of the jet age. The tourist industry never recovered here after the second Bali bombing in 2005, though that happened on the other side of the island two years ago. There are beautiful black sand beaches with no one else around except local fishermen and a few women desperately trying to sell me a massage or items of clothing and jewelry. The resorts and restaurants along the beachfront stand empty.
Offshore there are dolphins to be sighted and snorkeling areas to go to by boat, and every young man around wants to take me there, or sell me handicrafts of shell, or give me "transport" by motorbike. When the local bus arrives each day there is a crowd of touts to converge on the hapless newcomer, offering "cheap price" for accommodation--though the bus company provides free lodging for a night precisely to discourage such a rude welcome.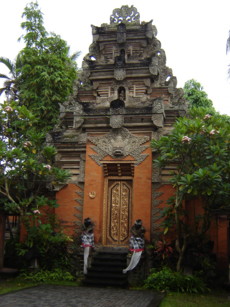 In the more central area of Lovina there once was a thriving tourist industry. Charming lanes with guesthouses, restaurants with local character, brick walkways along the shore now are deserted, except for the locals hanging about, waiting for you to appear with your sunglasses and camera and traveler's wallet.
Hello, mas-sage? Hello sir where you going? You come look my shop, just look for free. Hi sir, what is your name? Hello transport? Hello, sir, excuse me, sir, hello? Transport? I have nice things for you look. Hello where you stay? I have cheap price for you. Transport? Hello transport?
When I first arrived in Lovina I saw my German friends from Ubud, whom I kept running into a few times after spending the day on a temple tour with them. They did not look happy, having arrived the day before me and already decided to move on right away to Java. Besides the constant soliciting, there were, they said, hordes of mosquitoes here, day and night, that made life impossible. The supposedly beautiful beach was full of garbage. It was all very disappointing.
I took their warnings to heart and resolved right away that I would leave on the next morning's bus myself and flee down to Kuta. Kuta, ironically, is where the bombs went off, yet ironically, Kuta is where the tourists all still congregate in obscene numbers. Go figure.
---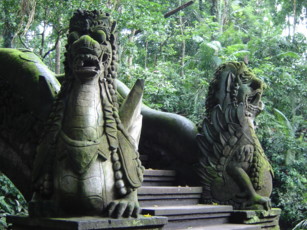 Ubud was a lovely attraction, complete with a sacred "Monkey Forest" full of mossy dragon temples and tame macaques, nightly performances of gamelan music and dance, shadow puppet theatre, fire dance, and Kecak "monkey chants" as seen in the film Baraka. All that on top of a wealth of art galleries, music and bookshops, and trendy cafes like Bali Buddha and the Jazz Café (offering nightly live jazz).
Completing the range of contrasts from Lovina, where I feel like "the last tourist"; Kuta, dubbed by Lonely Planet as "Beach Babylon"; and Ubud, a tropical version of Santa Barbara, CA or Nelson, BC; is Padang Bai, a small fishing village and ferry port to the neighboring island of Lombok. The days I was there, trucks loaded with fruits and vegetables were lined up for 3 km and waiting two days to get on the ferry, which had been cancelled due to high waves. Meanwhile there was a plane crash and deadly mudslides elsewhere in Indonesia, an earthquake in Sumatra, and a typhoon in the vicinity...but no shortage of tourists about.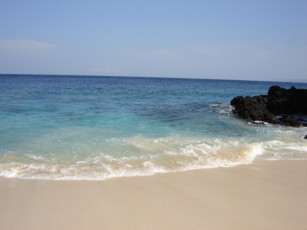 I spent just two days in Padang Bai, one each at the two small charming clear-water white-sand beaches, but fell into my usual funk with the "small town" syndrome. Not enough people around to be anonymous and blend into the background (like Kuta or Ubud); and not few enough people to have real solitude (like Lovina). Sort of a limbo in between, where to fit in, you really need to have or make company with the few familiar faces around you.
The funny thing about Lovina, it turns out, is that the much-advertised mosquitoes proved practically nonexistent. With a bright. comfortable and quiet room, I went to bed happy and woke up to birdsong. Free lunch, free room, free breakfast, doesn't hurt. As for the touts, after awhile I just learned to keep my space, respond if I felt like it, even accept to pay for a massage on the beach and to buy a nice shirt and pair of pants, and then politely but firmly refuse all other offers. In their eagerness to sell, some would sit and chat awhile, and then the selling became secondary, or faded away, and I could share personal stories that were larger than the central thread of the story here: that tourism is finished.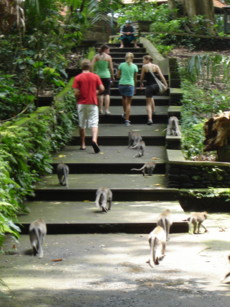 Stupid, I say, when people are still flocking to Kuta, while poor lovely Lovina suffers. Then the dilemma gets passed on to whoever does venture to come here, on the other side of Bali's stunning green mountains. At first it seems that the mosquitoes and the relentless touts will be unbearable, along with the feeling of alienation that comes with being, well, a lone alien in a place of humble but serious poverty. Then comes a willingness to see it through, to go deeper, to relax into the place, to claim a place here even for a day or two, to walk freely on the road or lane or beach, and to talk past the sales pitch into an understanding, us and them together here now, smiling humans in the gentle air.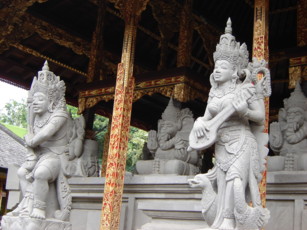 ---

more photos from Bali

---
Tri Hita Karana Doctrine
In accordance with Balinese Hindu philosophy, peace and tranquility are obtainable in our lives only when we respect and observe the three harmonious relationships known as the Tri Hita Karana Doctrine:
1. The Gods blessed life and created nature and all of its contents.
2. Nature offers sustenance to support the needs and activities of human beings.
3. Human beings have an obligation to establish a traditional village structure, to build temples in which to worship, to hold various ceremonies, to make daily offering, to preserve nature and to solve problems together.

Archives
January 2006 February 2006 April 2006 May 2006 September 2006 December 2006 January 2007 February 2007 March 2007 April 2007 May 2007 June 2007 October 2007 January 2008 February 2008 March 2008 April 2008 May 2008 October 2008 November 2008 December 2008 February 2009 May 2009 September 2009 October 2009 November 2009 February 2010 March 2010