Click on any title in the list below to go to Amazon.com. Then you may add any book to your shopping cart. Click here for more details.
P.S. Every order linked from here helps support this website.
Wilderness Man: The Strange Story of Grey Owl--Lovat Dickson
...Archie Belaney's editor gives a sympathetic, behind-the-scenes look at the Englishman gone native. A tantalizing glimpse of a world just before the conquest, in this century.
Northern Bushcraft--Mors Kochanski
...this man knows bushcraft, lives and teaches it, writes clearly and illustrates well. What to read on How to survive in the wilderness.
Touching the Void--Joe Simpson
...fantastic, true account of survival despite broken leg on Andean peak
Mutant Message Downunder--Marlo Morgan
...learning what the oldest humans have to tell us

Kauai Trails--Kathy Morley
...Every trail on the island, it seems, is covered here: a bit overwhelming before ever setting foot on the "Garden Isle," but useful as a reference once the trekking begins. Includes a wonderfully informative capsule history of Hawaii, copious plant identifications, and interesting local legends attached to places.
Desert Solitaire: A Season in the Wilderness--Edward Abbey
...Literary man turned wild man, via a stint as park ranger in Utah canyonlands desert. Pithy natural description, impassioned diatribe against civilization and comic caricature of 60's tourists, heart-to-heart confessional of man on earth?owboy stories and survival scrapes, rafting and rock-scrambling and humble wandering/wondering under the bleak blissful starry sky.
The Tree Where Man Was Born--Peter Matthiessen
...Africa in the sixties is the scene of this early Matthiessen journey. How stark and poignant are the beauty of the land and people in the face of an eroding way of life: a process familiar now to every continent on earth. Of particular interest here is the archeological significance of East Africa in the search for human origins--and the author's portrayal of the living remnants of the most ancient races of humankind.
Down and Out in Paris and London--George Orwell
...think you've got it bad? Try the Paris sculleries 100 hours a week.

A Year in Provence--Peter Mayle
...humorous engaging style, with an irresistable taste of a culture grounded in the basics: good food and drink.
The Bridges of Madison County--Robert James Waller
...a perfect novel of an affair, with completeness and simplicity, showing the ultimate tragedy of our dual-hearted dilemma. Great on video too, with Meryl Streep and (gasp) a well-aged Clint Eastwood.
Mande Music--Eric Charry
...A definitive and scholarly study of West African music--its origins, its instruments, its language and technique.

At Play in the Fields of the Lord­-Peter Matthiessen
...a perfect novel, even better than the excellent film
The Book of Jamaica--Russell Banks
...Banks gives his narrative imagination full rein in a book that unearths all of the mystery and convoluted history of this island. A white writer, the narrator, is plunged into ever-thickening plots involving drugs, politics, imperialism, race and murder, and by the end there is only one way to recover his shattered identity: a plane back to the mainland.
Timeline--Michael Crichton


...Still the master of the cutting-edge concept; but the writing has gone all TV-script. If you like unbelievable action at a fast pace, this will work for you. I admit, I couldn't put it down, though it smacks of sellout.
The Sea, the Sea--Iris Murdoch
...One of Murdoch's best. Like the Black Prince, this novel explores the angst of an artist (here a retired playwright and director) attempting to escape his past associates and relations. All, that is, except his first love, who turns up in his seaside village to haunt him afresh with the dream of impossible love.
The Camino--Shirley MacLaine
...Shirley is flakey and homespun by turns, delving into Lemurian lore here, dealing with diarrhea under a chestnut tree there. An engaging and candid self-portrait of the famous actress as she sheds her layers of fame and becomes a pilgrim walking the historic trail to northwestern Spain.
Shadows in the Sun: Travels to Landscapes of Spirit and Desire--Wade Davis
...Powerful encounters with natural peoples and places around the globe, including a riveting chapter on Voudoun rites.
---
---
About ordering books from this website:
Cougar WebWorks offers full-service secure and instant book ordering, in association with Amazon, "the world's biggest bookstore." You will have a chance to view prices and other information from an order page at Amazon.com's website. Links are to paperback editions wherever possible.
If you want to buy the book online, Amazon's order department will take care of everything. Orders are processed quickly and securely by Amazon.com, "the world's biggest bookstore." Most books are discount priced and will ship to you in 24 hours.
More Book Review Categories...
---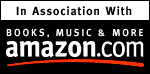 Click to read about Cougar WebWorks' association with Amazon.com