Return to Paradise
Hiking to Kalalau Beach, Kauai, Hawaii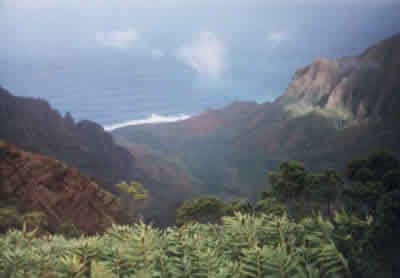 "Paradise": to have arrived: "the most beautiful beach in the world."
I sit spellbound, facing three thousand miles of blue ocean stretching northward to the Bering Strait. At my back as I write, a hundred-foot high waterfall threads down the cliff. Further behind, an amphitheater of sculptured peaks rises in a grand palisade. It's all eerily like, I am tempted to say, a cathedral; when no cathedral could emulate this richness of natural red-brown and green, this choral background of thundering, soothing surf, this comfort of finest, olive-colored sand.
My fourteen-year old daughter Nashira has accompanied me on my long-delayed, idyllic Pacific vacation. We both sense, having paid the final price of an eleven-mile hike to get here, that it doesn't get any better than this.
A lone walker appears carrying a surfboard which he had to pack in over the arduous trail. He crosses the beach to its far side, where the trail ends and nothing but sheer cliff and pounding sea continue around for twenty more miles to the next beachhead. He looks at us, at the cliffs, and out at the rough sea with its crashing waves, as if uncertain what to do next.
Where do you go after you have arrived?
Kauai is everything Nashira and I expected, and more. With its friendly local people, unpredictable yet frequently wet weather, and expanses of undeveloped green hillside, it's a lot like our rural British Columbia home. So why have we come here?
Short, personal answer: it was time. Generic version: to find out first-hand what this "tropical paradise" business is all about.
Too Hot and Heavy
After braving snowy roads all night to catch a pre-dawn flight from Vancouver, the intrepid backpackers emerged in a muggy Hawaiian airport at noon with far too much to carry and no clear idea of where to go. Quick plastic solution: rent-a-car.
For a week we drove around the small island like cornered North American tourists looking for the next endless highway: first from bustling Lihue, the airport town, to the blistering desert beaches of Polihale State Park on the northwest shore, for a blast of sun. Next we explored the highland forest trails of Kokee State Park, and the free county parks and secret beaches of the rainy northwest coast. We made short work of an island whose area would fit nicely within a couple of our B.C. mountain valleys.
Most important, this week of motorized grace allowed us to carry around our excess clothes and gear until we got a feel for what we'd need most when relying on our feet and our thumbs. Pared to the essentials for the five-day outing on the wild Na Pali coast, our packing list included tent, sleeping pads, a sleeping bag to spread as an occasional blanket during the warm nights, and a modest supply of rice cakes, bean flakes, nuts and dried fruit. Why pack a stove, fuel and cookware when you can just add water and stir?
On the Road to Kalalau
Stowing our extra gear in a Lihue mini-storage for $15., we headed out for Haena and made the forty miles in two hours. We got rides from a young surfer, a middle-aged horse-owner in a big pickup, and a Hanalei housepainter, riding in the back in the open air each time. I saw more of the island in those two hours than in 300 miles behind the wheel. Our last ride, a retired Navy man and wife, put us in the back seat and took us to the campground a mile from the trailhead, where we spent a stormy afternoon and night. The woman told us that there were "crystal pyramids" inside the green, fairy-tower mountains there.
For the first two or three miles of the Kalalau Trail, father and daughter slogged at a mile-per-hour up and down the mud-slimed ruts. But by mile seven we were past the constant jungle and into open dry hill country reminiscent of California or Scotland. Tracks of red earth led us over rolling hills that dropped off to the ocean to our right, and we passed numerous small family groups of feral goats. In a couple of places the trail narrowed to three-inch wide ledges falling away to the sea, but when it came to it, these were easily, if carefully, stepped over.
Fearful at first that we'd miss the six o'clock sunset and have to finish the still-precarious hike in the dark, we came to Kalalau Beach with an hour to spare. Our eight-hour hike was rewarded with a soak of tired, blistered feet in the surf (we both had worn new boots), an awestruck gazing at the wild parapets above, and a gratitude at reaching clear skies at sunset.

Paradise Then and Now
The Kalalau Valley, a broad, green basin rising gently from the coastal trail a mile before the beach, was once home to five thousand Hawaiians living by fishing and taro cultivation. There was also abundant fruit to be had then from the lush forests.
Looking forward to as much as a week here, Nashira and I hoped that some of this legendary bounty would supplement our meager rations. But an exploratory forage up the valley yesterday yielded only a few more of the small variety of guavas that grew plentifully along the trails.
We returned to the beach today for another day of contemplation, sustained by dried snacks and treated water. Under shifting silver skies, we sit rapt in the absence of everything we are used to. Without the distraction of school, shopping, movies, books, or even other tourists, Nashira is almost teen-bored. Yet the magic here is pervasive, and she sits calm and reflective under the floating mists.
When the first helicopter of the day comes buzzing into view, its passengers are able to scan with video cameras the entire spectacle of this famed Na Pali Coast. In her trail guide, Kauai Trails, Kathy Morey paradoxically recommends this aerial approach, likening our ground-eye view to that of "a flea on a horse's back." But now already the copter is gone and gives way to another…while we linger at our ease on the sand, the swish of waterfall mingling with the churning of waves.
If there is a paradise on earth, I muse predictably, this must be it.
Except...I am fearful of swimming here, because the surf is heavy and the undertow treacherous.
Except...The "fresh" water in the waterfall is unsafe to drink, due to leptosperosis, a giardia-like disease spread by the feral animals and requiring disinfection by boiling or chemical treatment.
Except...With the sparse fruit supply, our days here are numbered by our rice cakes and camping permit.
Where then is paradise, where is home?
Paradise this may be, yet perhaps with a lower-case "p."
The surfer has gone back down the beach now, still carrying his board.
Maybe it's time now, already: to get back to the highway, the grocery store, and a couple of last days of sunshine on the dry side, where all the tourists go.
---

view slideshow of photos from Kauai
---
Impressions of Paradise, Part 2 - Maui, May 2006 - by Nowick Gray
Slideshows of Maui, Hawaii, including Haleakala Volcano Crater
---
"Return to Paradise" is included in a collection of essays in ebook format (pdf). Coming Home: Nature and Me and Other Essays is available now for free download.

Right-click to save to your computer: nature.pdf

View catalog of free e-books for download.